Home » Posts tagged 'South Jersey'
Tag Archives:
South Jersey
Lager was featured in South Jersey Magazine!
Click HERE to read the full interview!
After a hard-days-work of being a donation dog at Working Dog Winery, Cello made a stop for some dinner…we were all hungry!!  PJ Whelihan's was the perfect place to grab a bite to eat!
PJ Whelihan's is located in Medford Lakes, NJ, a 1.2 square mile town with 22 lakes, and over 150 log cabins!
PJ's has outdoor seating that is dog friendly.  Cello was so well behaved, and enjoyed lots of attention from everyone!
 Cello was very interested in my sangria!
Rita visited PJ Whelihans in May of 2016!
Check out PJ Whelihan's events if  you are ever in the area… it's a fun place to relax and enjoy some food and drinks!
Last Sunday, Brian and I drove out to Allentown, PA, to pick up one of 2 English  Pointers pulled from a high-kill shelter in Kansas.  The rescue in their area was full and had no foster homes available, so the German Shorthaired Pointer Rescue of NJ volunteered to help out. The female English Pointer, Amira, was being picked up by her foster parents. This is Amira: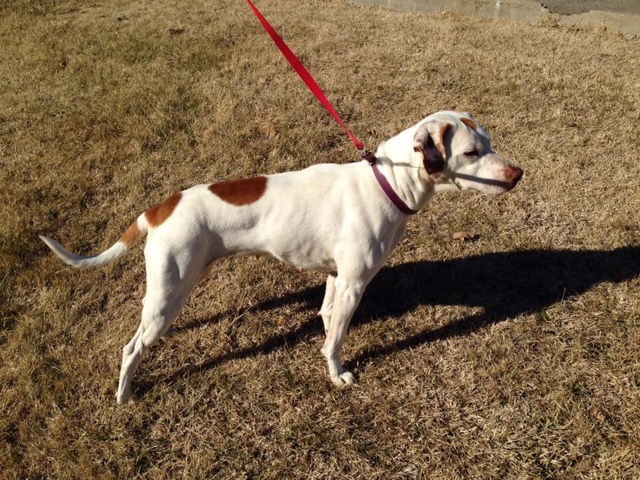 However, Max, the male pointer, need to be transported closer to his foster dad in Southern NJ – so that's where Brian and I helped out. Meet Max… isn't he stunning?!?
Max was a very excitable boy, and was alert for most of his 2 hour ride to Southern NJ.
After some nice ear rubs, Max finally felt comfortable "giving in" and taking a nap!
Brian and I took Max to our house, where his foster dad was picking him up.  Max's foster dad wound up staying at our house for a good 2.5 hours while Max and Cello played their hearts out – bot inside the house and in the snow outside in the yard!  I regret not taking pictures during that time to share…but I was too overwhelmed with joy watching the two play so well together, and thinking about how this wonderful dog, once discarded, is about to begin the best part of his life!
Cello was worn out from all of Max's energy and slept like a baby that night!
It took many volunteers to transport these two English Pointer pups from Kansas to New Jersey… Thanks to everyone who helped these two cuties on their way to a better life and a forever home!  If you are interested in Max or Amira, please email the German Shorthaired Rescue of New Jersey at GSPrescueNJ@hotmail.com .
UPDATE: MARCH 2014: BOTH MAX AND AMIRA HAVE BEEN ADOPTED!
Thinking of a GSP but don't live near NJ?  Think rescue! The National GSP Rescue lists regional GSP rescue groups across the United States and Canada. If you are interested in adoption, volunteering, or would like information on how to surrender your dog to rescue (Please do not surrender GSPs to a shelter or abandon them!!!!), please contact the group that covers your state or region.  If there is no contact listed for your state, you can email the National GSP Rescue at rescue@gspca.org . A GSP rescue will help match you up with the perfect GSP for your family!